The reason
93% of all online experiences start at a search engine
is because these people have a question that needs answered. That's why the search engines refer to the words someone searches on as a
"query"
. Searchers have a problem that needs to be solved – whether that's information or a product or service. The idea behind Pain Point Marketing is creating content that answers the questions or needs of those searchers so your website will appear at the top of a result page.
Think for a second; how does your company address the needs of your prospective customers? Does the content of your website match the needs of your customers, or are you simply talking about your product? FYI – that's not branding, that's self-absorption.
I should clarify the difference between the terms a site is likely targeting and the search phrases I'm recommending. Most sites (not blog content) try to target the "head terms" for the products they offer. For example a flower shop might target "red roses" for one of their pages, which is perfectly fine. However, that's a competitive term and likely a competitive market in which most sites won't want to enter. Also, think about the intent someone has when searching for "red roses". They could be searching for ANYTHING pertaining to roses; how to prune them, how to buy them, how long they keep. My recommendation is to create that supporting content to address those exact issues, "how to prune red roses in the spring" – whatever it might be.
How to Create Content to Address Customer Pain Points
1. Google analytics keyword data
Your customers have already given you a baseline of content ideas. Assuming you're using a web analytics system, you should have at least some visitors coming in through keyword searches on Bing and Google. Run an organic keyword report and filter out terms that contain your brand terms. Here you can see I've stumbled upon a few good blog post ideas: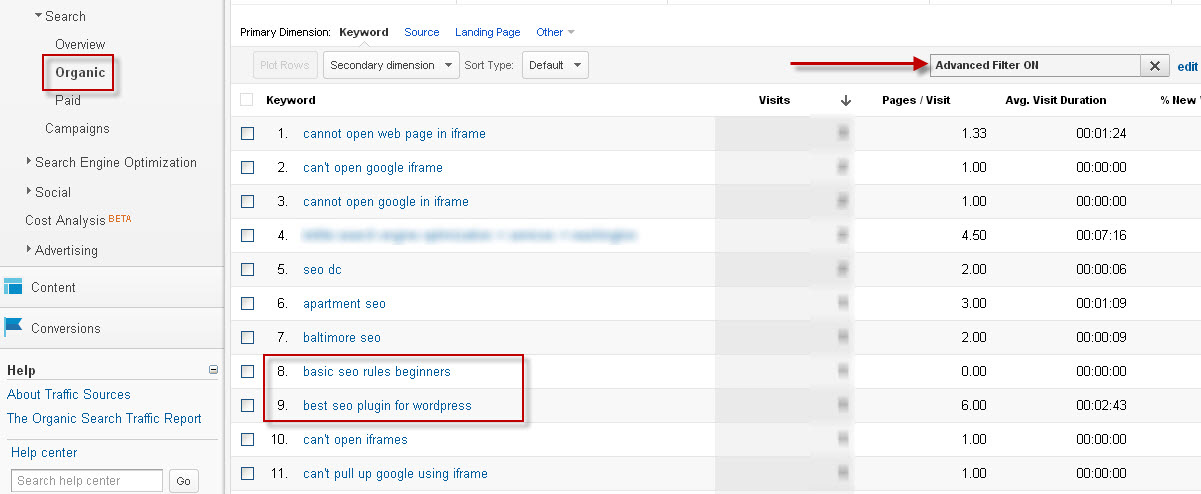 From here, I might write a post that 1) addresses the keyword idea and 2) answers potential questions a searcher will have when researching this content topic. I'll take the information above and write a post titled "What is SEO? Basic SEO Tactics for Beginners"
2. On-Site Search – Google Analytics
Perhaps no other report in online marketing can better tell you what your customers want than the on-stie search report. I mean, it's literally what people want. These are the terms your site visitors are entering on your search feature when they can't find something through normal navigation. Make sure you've configured Google Analytics to track those searches. It's pretty simple, here's a good example.
3. Use Twitter Search for Content Marketing Ideas
Twitter is an amazing source of short-burst thought. Contrast the way people use Twitter to blogging, Facebook or LinkedIn and you'll find very different motivation behind this content sharing network. Tweets are quick thoughts by nature, whereas blog posts and some Facebook posts, due to their length, afford the writer time to think through their words. Here's an example: I just used the keyword "prune flowers" and set up a TweetDeck search. Instantly a flower shop owner has a blog post idea for "Should you prune the dead flowers off a lily?"

Now that you're creating content that's useful to your target audience, I'll give you a bonus tip. If you're using Twitter and have built up a nice following of customers, you can use a tool called FollowerWonk to find out when your followers are active on Twitter throughout the day. After you write your post, plan to Tweet the content during the peak times your community is active. Use the "Analyze followers" tab and enter your own Twitter handle then choose "analyze their followers" and scroll to the bottom and you'll see a chart like this one: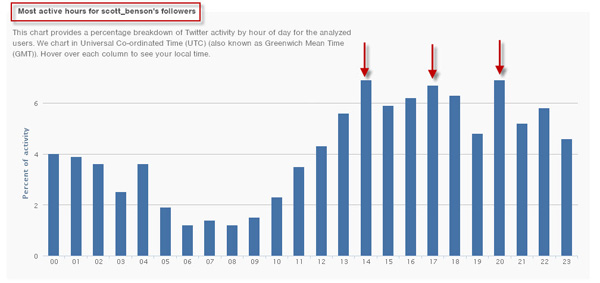 Oh, and guess what? You can use this same application to find your competitors followers, and post when their active too. Sneaky, huh?
I've seen this tactic work time and again. It's such a great way to create content that attracts customers in need. These visitors are highly motived to address their current problem and are much more likely to become a paying customer once you establish trust through content.
Do you have any other tips for finding content to answer your customer pain points?