How an Increase in Demand and a Solid Strategy Led to SEO Success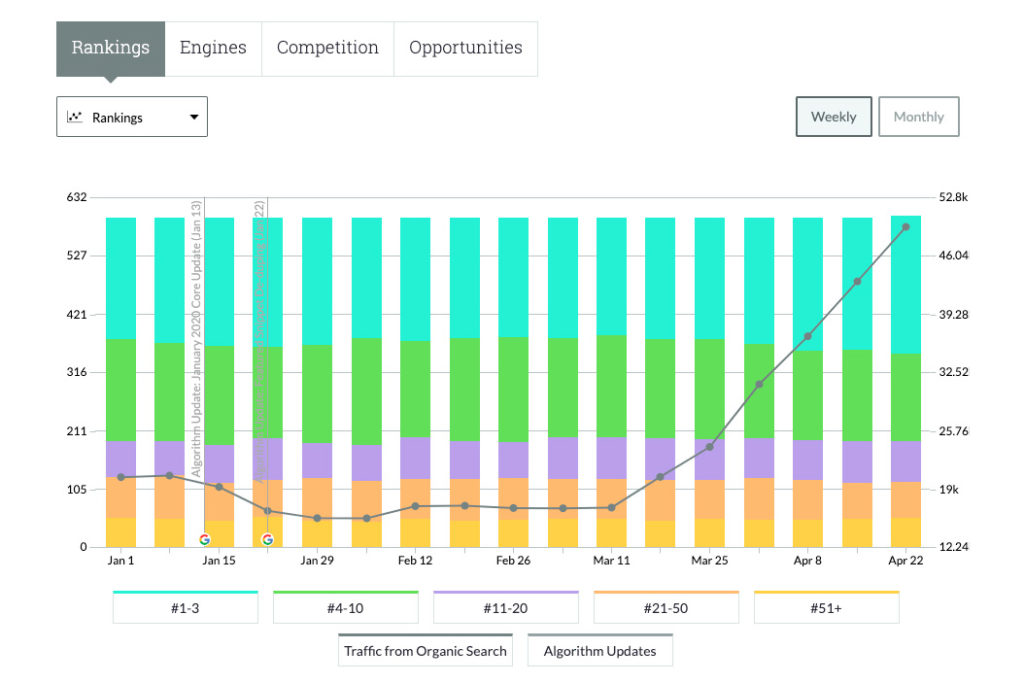 Recently, one of our clients clearly demonstrated how creating and implementing an SEO strategy that addressed fixing on-page and technical optimization issues positioned them for increased SERP visibility, higher CTR and more product sales due to current events happening around the world. When we saw what was occurring, we knew we needed to share what we did and the results we achieved in this accelerated SEO case study.
The Problem
An e-commerce client of ours, The Spice House, went through a massive platform transition to gain added functionality to increase conversions by providing a better customer experience from viewing products to completing their purchase. The product pages were optimized fairly well for descriptive keywords and company branding before the platform change, and the on-page elements were carried over after the transition was done.
However, the site had issues that contributed to flat metrics we measure for the client in Google Analytics – visitors, page views, product conversions, as well as impressions and CTR in Google Search Console.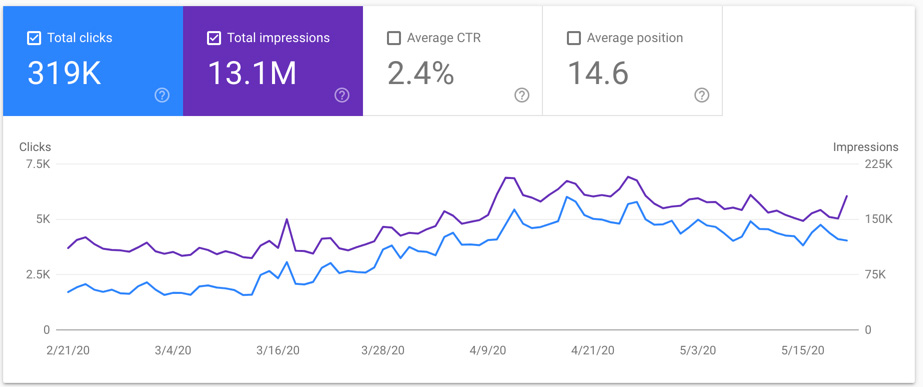 We found three areas that could be improved to boost search engine results visibility. Specifically, we identified the issues below and created tasks to:
Create an SEO content calendar to feature articles on seasonal events and drive readers to product pages
Eliminate duplicate content that was using up crawl budget and blocking out product URLs from being crawled and indexed efficiently
Increase use of structured data markup for products and recipes to show their content more prominently in search results and stand out from other results with an image, detailed recipe information and star ratings to convince searchers to click on the client's results
While participating in planning the e-commerce platform transition, we did a content audit and with client input, pruned some content. As a result, we saw expected drops in the metrics we measure due to different pages being taken out of Google's index.
Since the product pages were fairly well optimized from the old site, we didn't see the classic on-page SEO as a contributing factor. The core products had been consistently ranking in the #1 – #3 spots, and dropped to about #3 – #5, which does impact organic traffic. Again, we expected this due to changing e-commerce platforms and URL structure, even though we mapped out individual 301 redirects to the most relevant new URL as possible to maintain rankings for product pages.
If you're curious, here's the relationship between organic ranking (position) and CTR — a small change can have a big impact: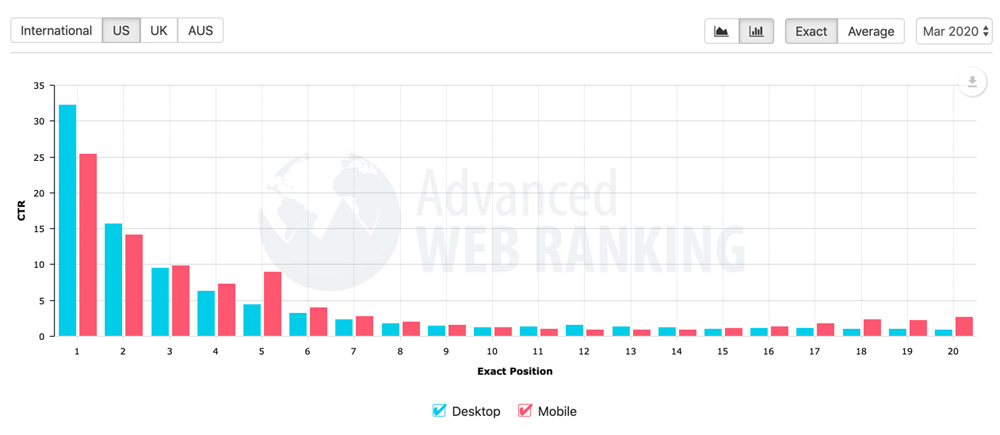 The Spice House started selling on the internet 2000. In 2016, the company released a robust custom coded Ruby site and invested in SEO. The site performed well, but modifying it was time consuming and costly. Under new management, The Spice House decided in 2019 to replatform on Shopify. This increased site flexibility, but introduced challenges for SEO. The Ruby site had gained significant authority with Google that would not translate automatically to Shopify. New URLs and a totally new site structure presented significant SEO threats. The Spice House hired Benson SEO to mitigate these threats and preserve as much SEO authority as possible.

Charlie Mayer, CEO | The Spice House
The Challenge
After we identified the improvements necessary to achieve better SERP visibility for products we determined what challenges we faced that could impact completing those tasks. These challenges were:
The quantity of fixes identified – for some of the issues and new SEO tactics we wanted to implement, there was a sizable number of pages that needed modifying.
The ease of fixing/changing issues – some of the issues required the client's web development and maintenance team to take on additional work tickets to implement the solutions we identified.
The resources available – the client has a small web maintenance team that has a number of SEO tickets to implement and balance against other development projects from the client.
Accounting for seasonal changes (Thanksgiving, Christmas, Super Bowl parties, St. Patrick's day, Easter, etc.) and user intent – we needed to identify as many different seasonal and event-driven scenarios as possible, along with what web searchers wanted from the site, and tailor our solutions accordingly.
The Solutions
Based on the "big picture" we saw for domain performance, we knew we needed to concentrate on:
On-page SEO and Content – Identifying topics of interest to blog about that mirrors searcher intent for the client's products and use internal linking in each post to send readers to product pages featured in each article.
Technical SEO – Getting rid of "classic" ecommerce duplicate URLs that were wasting crawl budget and ensuring canonicalization was in place for product URLs.
Structured Data and CTR Optimization – marking up images, reviews and ingredients allowed the client site to compete on a more level playing field in SERPs by being more visible with an image and recipe information on ingredients, as well as star rating reviews.
On-page SEO and Content
For the content calendar and article publishing, we conducted keyword and topic research to use phrases to optimize on-page elements such as:
Page titles – we created titles using a chosen keyword phrase to show up higher in search results
Page descriptions – we wrote descriptions using benefits and information to persuade the searcher to click on client's product URL in their search results
Page copy – the client's subject matter experts wrote interesting, unique, descriptive and easy to read articles to educate readers about recipes and products; we also created internal links to associated products and recipes
Images – we populated the alt text tags to allow product page and blog post images to show up in search engine image results as well as organic search results
The content planning also included publishing blog posts that feature more natural language optimization and question and answer format about products, which allowed us to leverage these tactics:
Write themed content for specific holidays and special days such as Thanksgiving dinner, Super Bowl party foods, St. Patrick's day recipes, Easter dinner ideas, etc.
Research national food and beverage days such as national meatball, national zucchini bread day, etc., to showcase the client's products that can be used for these recipe posts.
Use a focus keyword phrase for each of these and optimize all page elements accordingly.
Use in-house subject matter experts to write unique content that demonstrates their knowledge and experience in creating recipes using their products.
Increase use of internal linking from recipes and recipe posts to the products featured in the articles.

Technical SEO
Duplicate Content Problems That Hindered Efficient Crawling and Indexing
Duplicate content issues were present which caused a decay in search visibility and clicks due to inefficient crawling and indexing by search engine bots. There were three causes we identified and fixed:
/collections/collection-name/products/product-name duplicate URLs
Product variant query string URLs like ?variant= and ?pr_prod_stat
URLs for similar versions of a product; one non-organic; the other organically sourced
In all three cases, we worked with the client's web development team to correct the template coding functionality that caused the duplicate issues.
Structured Data and CTR Optimization
A lack of structured data markup for products and recipes was negatively impacting the client's products and recipe pages when compared to their competitors in search results. For products, an image, the star ratings, price and availability can contribute to a higher click through rate (CTR). When people are searching for recipes, displaying an image, showing star ratings, cook time and calories all persuade a searcher to click on that result.
For the client, given the large number of pages and resources available, we chose to do basic markup to get more pages improved search engine results visibility in a shorter time frame.
Recipes: Image and star ratings
Products: Star ratings, price and availability (in stock)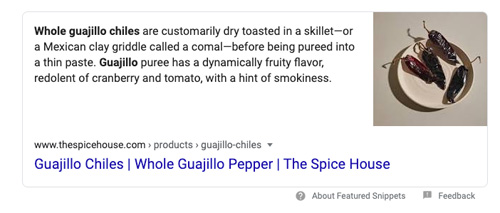 We compiled a list of product and recipe URLs that would probably get better CTR with the structured data markup listed above. The following was done:
Worked with the web dev/maintenance team to put structured data markup in recipes and images for both recipes and products
Developed mini project w/tasks and track in spreadsheet
Incorporated appropriate schema into URLs and publish/index URLs
Results:
Most URLs and images were fixed going into the 2019 holiday season
February 2020 – U.S. began to be affected by the COVID-19 pandemic; states began shelter in place orders
March 2020 – Searcher intent began emphasizing cooking at home, recipes, flavorings, spices

Site starts to show up higher in SERPs for recipes and products
Impressions, CTR, site visits, page visits begin rising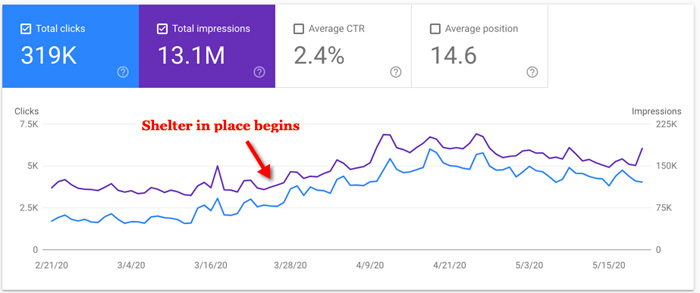 Conclusions:
In just eight weeks, we measured an 80.9% increase in pages visited (7,600 avg vs. 42,000 avg). This is due to several factors, in addition to a spike in search volume:
Creating and implementing a content calendar using high volume focus keyword phrases
Diligently optimizing all blog post elements with the focus keyword phrase, which led to higher rankings in search results
Eliminating duplicate content to ensure product and article URLs get crawled and indexed for higher search visibility
Using structured data markup for recipe and product pages to stand out better in search results
By correcting these issues, the site was then able to:
Leverage specific events that feature food and drink recipes – the Super Bowl, St. Patrick's Day and Easter Sunday with better rankings for blog posts
Compete with other food/recipe sites recipes and blog posts in search results for people looking for recipes and featured products to cook better meals at home while sheltering in place due to the COVID-19 pandemic by showing up higher
Garner higher click through rates with image, star rating review, price and product availability information in search results with the structured data markup that was applied
In turn, with increased Click-through-rates, rankings rose higher for more product and recipe URLs, thus enhancing the performance cycle. This is the flywheel, or really the snowball effect we abide by in our SEO process and this accelerated demand timeline has been astounding to watch.
If you care to learn more about our process or chat about what we've been able to accomplish for The Spice House, please Contact Us to start a discussion about your SEO and Conversion Optimization needs.