When speaking with new clients we are often asked, "how does SEO work?" and "how long will it take for this to work?", and as many agencies can attest, the answer is pretty complicated and often boils down to "it depends". I thought it might help to spell out how our SEO process.
A methodical approach to SEO is critical for developing the "big picture" of a website, uncovering crawling, indexing and ranking issues and allowing us to develop a blueprint for search visibility improvement for your website.
Using the SEO & Digital Marketing Flywheel illustration below, we conduct an in-depth website SEO audit that covers approximately 200 elements that include on-page, off-page and technical search engine optimization, conversion optimization, social media marketing and website analytics. From this review, we create a custom client project that mixes high, medium and low priority items to fix that will improve overall search engine visibility. We believe in creating a routine and repeatable process in these 5 strategic areas of Digital Marketing and SEO. SEO is a "sum of all parts" discipline, and routinely optimizing over time creates sustained traffic growth from web searchers who are primed to convert to be your customers.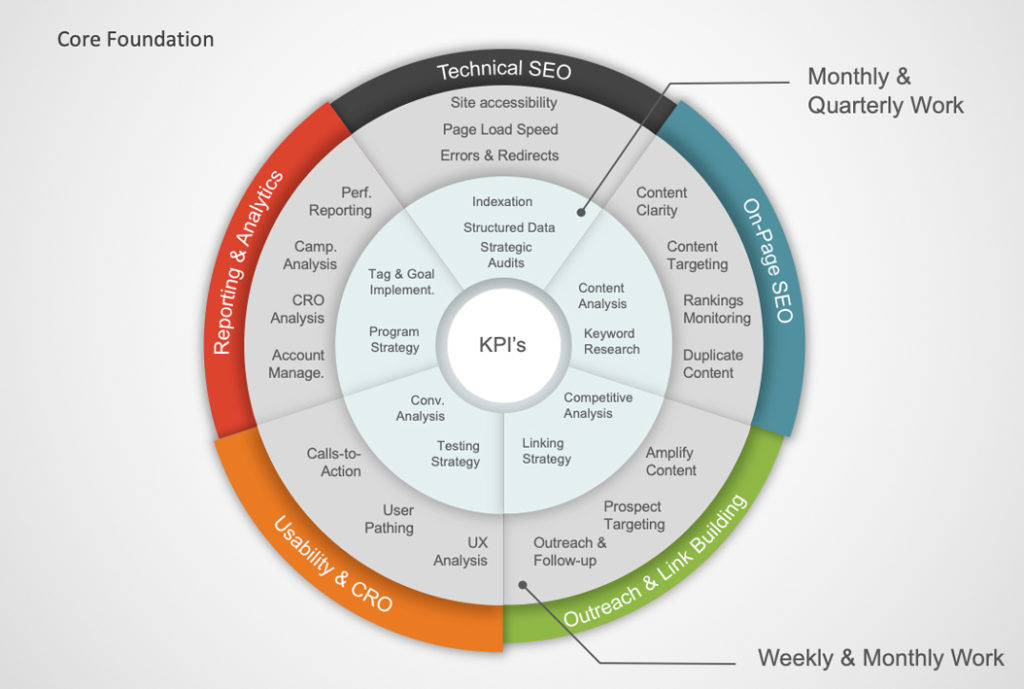 With client input, we develop meaningful Key Performance Indicators (KPI) to measure against the work in the following areas:
Quarterly and Monthly SEO Process Tasks
Technical SEO:
As websites continue to grow and search engines analyze the technical components listed below, we know that fixing these issues can move the needle more than just optimized content alone.
#SEO PSA: Don't start content marketing until after you've gone through a technical SEO Audit. If search engines can't access, crawl and index your content, then it's pointless. And a few minor issues add up quick. Have been seeing so many major issues lately too. ugh.

— Scott Benson (@scott_benson) March 23, 2020
Google includes page load speed as one of their ranking signals to feature pages higher up in search results. This ties in with their emphasis on user experience and usability, as web searchers want to see pages load fast regardless of which device they're using.
Errors and redirects consume precious crawl budget, so we dig deep into this area to ensure that clean redirects and page errors are fixed.
Site Accessibility
Page Load Speed
Errors & Redirects
Indexation Issues
Structured Data Markup
Website Architecture
On-Page SEO:
Classic, on-page optimization never goes out of style. Coupled with fixing technical issues that hinder crawling and indexing, we do an in-depth analysis of existing content. Search engines match search queries with user intent, so knowing the terms your target audience plugs into search engines, and using them in context in your content helps your pages show up higher in search results.
Reducing duplicate content frees up crawl budget and ensures that only one URL that's unique to each piece of content you create will show up in search results.
Content Clarity
Content Targeting
Rankings Monitoring
Duplicate Content
Content Analysis
Keyword Research
Having other domains linking to your content – domains that are relevant to your business offerings – is still one of the most important ranking signals in Google's search algorithms. We analyze your site's link profile, review the high quality links your competitors have, and develop an outreach program to boost your content above and beyond search engine results.
Outreach & Link Building:
Amplify Content
Prospect Targeting
Outreach & Follow-up
Competitive Analysis
Linking Strategy
Link Spam Analysis
Usability & CRO:
Google and other search engines emphasize an easy user experience across multiple devices. Communicating clear calls to action and converting prospects into clients is critical for your company's growth. We analyze your site from a web visitor's point of view across desktop, tablet and mobile devices. We recommend conversion rate optimization testing to find that sweet spot where your content converts the most web readers into customers. You can generate all the traffic in the world, but if those visitors don't raise their hand to buy your products and services, then what's the point?
User Experience (UX) Analysis
User Pathing
Calls-to-Action
Testing Strategy
Conversion Analysis
Reporting & Analytics:
If we do all of this work, but don't measure the results, there's no real way to tell how much of a positive impact SEO has on your site. Using Google Analytics, Tag Manager, we develop meaningful key performance metrics to show you the real picture of how web searchers move through your site's pages to become customers. We interpret the data, deliver reports and Google Data Studio dashboards that show you progress made and we make recommendations on ways to gather even more information that shows you how well your site is performing, and where we can still implement improvements.
Whether it's measuring how many visitors fill out your contact form, where shopping cart abandonment is most prevalent, or how many web visitors download valuable gated content, Benson SEO shows you how well your site contributes to your company's growth.
Performance Reporting
Campaign Analysis
Conversion Rate Optimization (CRO) Analysis
Account Management
Program Strategy
Tag Management Implementation
Event Tagging Set Up
Site Goal Implementation
Contact Benson SEO today to learn more about our in-depth website audit, and how it can uncover issues you may not know about that are hindering your site's search results visibility.