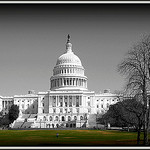 DC is a political, image-driven town, where the perception of a person or organization is reality – I know, nothing shocking there. This concept can be applied even at the small business level in Washington, DC. Your company reputation online is critical to making that first great impression on potential customers. But what does SEO consulting have to do with online reputation management? SEO IS reputation management. It's the practice of controlling what shows up on search engine results pages (SERP's) when someone submits a query for your name or service offering.
Typical Google results have 10 listings and each of those spots offers a potential touch-point for capturing that customer. You only have one website – true – but there are tactics that can be implemented to improve your chances of "owning" more than one of those 10 links. Think about a small non-profit organization with no marketing budget; they too have a say in what potential visitors view prior to entering their Web site. It's all about that first impression on page 1.
Here are a few tips:
Google Webmaster Tools
Register your site with Google Webmaster Tools and navigate to the Configuration tab and select Sitelinks. These are the additional placements you see under some larger brands. You can't tell Google what to show here, but you can remove pages that aren't relevant to maintaining your brilliant reputation or to assisting in conversions. These Sitelinks take some time to build so check back after a bit.
Social Media
Creating active social media profiles that your followers engage or find useful will provide a great opportunity to control another one of the top 10 listings in the SERP's. As long as you can maintain the community, I'd highly recommend Twitter, Facebook and certainly Google+. Restaurateurs absolutely must cater to the Yelp crowd. These review sites can make or break a reputation. Which brings us to…
PR and Third Party Validation
There are some great news distribution vendors out there (I know of one in particular *wink* ) that can help your public relations efforts, which in turn, help your online reputation. Press releases are a great way of getting additional content that you control into those first 10 Google listings. Also, if you're in a time-sensitive industry you have a great shot at adding a Google News listing. This can obviously help in News searches, but also with blended search, where the listings contain news listings and video links among other things.
There's no better way to communicate how great your business is than to have someone else say it for you. Third-party validation in the form of a review or an editorial write-up is not only a great selling tool, but often shows up in the mid to lower range on the first page of Google. Securing those reviews is pure public relations. Find a rabidly happy customer and approach them about the idea.
If you have any other online reputation management tips, please feel free to share them in the comments section.