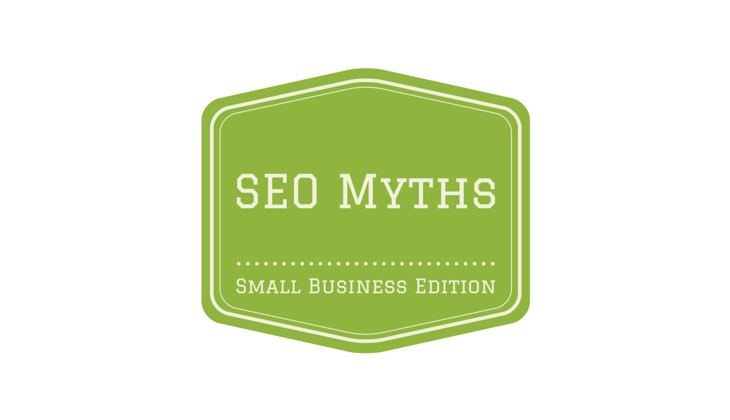 If you're a small business owner or a marketer at a small business, you don't have time to keep abreast of every single Google Algorithm change (Penguins, Pandas, Hummingbirds, Pigeons, Giraffes – OK, I made that one up). However, you do need to know the difference between good SEO advice and the countless myths that exist about SEO.
Here's a guide to seven of the most common SEO myths, and what the truth really is.
Myth: Our web page contains our target keyword 10 times, so we should rank well.
Fact: Keyword density is a thing of the past. Rather than forcing keywords into each paragraph of a page, write naturally and feel free to use synonyms while focusing on quality of content, not quantity of keywords. The search engines have come a long way in understanding the meaning or intent of a search query, rather than relying only on the keywords used to search. Remember, focusing on your target audience and answering their questions far outweighs keyword usage as a viable tactic.
Myth: Our site was "optimized" a few months ago, so we're all good!
Fact: No you're not. SEO, content marketing and social marketing are all ongoing processes. Relevance is important (think targeting and intent), but recency is extremely helpful in ranking as well. Your site needs fresh content, and there are always improvements (optimization) to make. Technical SEO is the basis for content marketing and SEO outreach. Really, technical SEO and content marketing are two sides of the same coin, and can always be analyzed and improved.
Myth: We don't have time for SEO.
Fact: The basics can be quick and if you care about the long-term sustainability of your business, you can find the time. Start with the basics. Make sure you don't have duplicate content, and if you do, fix it. From there, the best basic SEO idea that anyone can implement is writing completely unique Page Titles that match the content theme of the page.
Myth: We're a small local business and we don't need search marketing.
Fact: Not every customer finds you by word-of-mouth or by walking past your storefront. It's imperative for local businesses to have visibility where potential customers are searching. A Google My Business listing is a great starting point. According to Google, 97% of consumers search for local businesses online. Why not use their services to attract new customers?
Myth: Content marketing is hard and SEO is all about links.
Fact: Small businesses are better served focusing on content creation first and user experience second. If you provide an experience that visitors enjoy (read: solve their search query problem), then social sharing and the links will follow. Also, if your small business is in search of links, I'd recommend staying away from directories unless they are absolutely relevant to your local business. If you're a flower shop in the Capitol Hill neighborhood of Washington, DC, then by all means get your site listed on CapitolHillBid.org's directory. Just stay away from the mass-submit directory services. As you do add your business listing information throughout the web, make sure your Name, Address and Phone Number (NAP) all match exactly.
Myth: Google discourages SEO.
Fact: Google cares about improving user experience. Their mission is to "organize the world's information and make it universally accessible and useful." Having a site that solves a searcher's problem quickly hits at the core of their beliefs. It's in Google's best interest for search questions to be answered, genuinely. If a searcher's query isn't sufficiently answered, the searcher will try to find that information elsewhere, either on another search engine, or by re-searching on Google. Those experiences mean the results Google offered didn't work. They got it wrong. Google doesn't like being wrong (at least I assume they don't, but can you really argue that point?) They want to match question to answer as quickly as possible, which leads to…
Bonus tip: Make your site load as fast as possible. Google is interested in displaying sites in the SERP's that load quickly so when searchers arrive at your site, they can find the information they need as quickly as possible. We've all abandoned a site because it didn't load quickly. Also, as Google crawls and indexes your web content, they typically have a page limit assigned to your site. They'll crawl only so many pages depending on your site authority (and other factors). Increasing the authority of your site and the page load speed will help you increase this page crawl allotment so Google crawls and indexes your deeper site content.