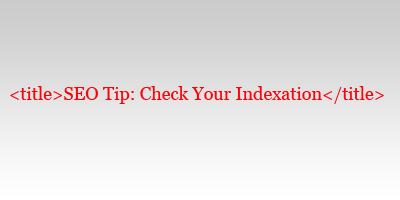 I see a lot of chatter online from businesses needing quick-and-easy SEO tips; however I fear much of the advice people receive is misguided. If I could provide the two most basic SEO Tips to small businesses needing better online visibility, it would be to first, check your site indexation, and second, make sure you write unique page titles. Now, there are so many grey areas in this discussion that the tips here shouldn't be taken as the bare minimum SEO to get by. These two tips will get you part of the way, and any small business that is strapped for time should check that their site complies. These are critical to good SEO.
There's a famous quote from Bill Gates that goes, "If I was down to my last dollar, I'd spend it on public relations." These two SEO tips are the current equivalent to that quote in terms of on-page and technical SEO. (What's funny is Gates' quote, while quite old, has never been truer than today because the disciplines of marketing and public relations have converged.)
SEO Tip #1: Check Your Site Indexation in Google
First things first, you need to make sure Google can crawl and index your site properly. From here, Google will display your pages in search results when your content is a good match for a searchers' query.
Performing a "site:YourSiteName.com" search on Google will display the pages that Google has in its index for your site. Keep in mind this is a sample, but it's a pretty good measure of what they have crawled and can display to searchers. Let's say you have 20 pages on your website and Google is only displaying 1 or 2 in the results, then you know if you have an indexation problem. You'll need to fix this before moving on to step 2. Actually, you'll want to fix this before doing anything else. Those 20 pages are your entry points for bringing in new customers and operating at only 5-10% of capacity is obviously not ideal. For more tips of identifying technical site problems, check out this SEO Health Check.
SEO Tip #2: Write Unique Page Titles
Assuming you have either passed the indexation test, or have started the process of fixing your site so Google can crawl it, the next thing to check is your page titles. (Note: this tip also assumes your page content is useful and also displayed in a search engine friendly manner. See "grey area" from the first paragraph)
Take that same "site:YourSiteName.com" search from the first tip and look at the big blue links Google displays for your pages. This is the page Title, you have control over what is displayed here, and you should absolutely optimize these for user's interest. By optimizing these for a searchers query, you are a) helping them find a relevant page and b) letting the search engines know what your page is about.
By matching the page title with the content that is on your page creates a powerful SEO signal for search engines. They now have a basis of information to assign relevance to your page and will help them make the decision to display your site content in search results. Here's a sample of the page titles displayed for BensonSEO (at this point bensonseo.com is not a large site):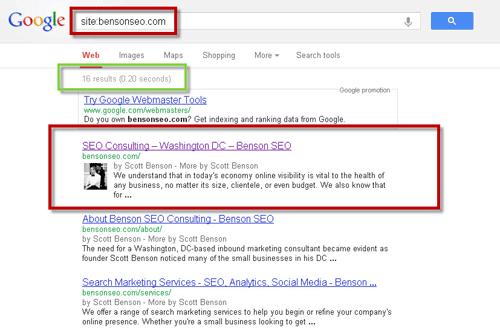 As you can see in the first result, I provide "SEO Consulting" in "Washington, DC" and I end the Title with the site name for a little brand mention. A good page title optimization template to follow is: Primary Keyword – Secondary Keyword – Site Name. As a rule-of-thumb, I try to keep my page titles to 50 characters or less, but Google will display up to about 65 characters before truncating with (…). Matching your page Titles to you page content is a huge SEO win many small businesses are missing.
Oh, you noticed that the firs listing there's of picture of me, huh? That's a more advanced tactic for another post, but it ties in Social Media Marketing with SEO. The theory is – and would be supported if I was a little prettier – that humanizing the search results with an author image will lead to higher click-through-rate on your content. Again, that's a more advanced SEO tactic I'll cover later.
Follow these two SEO tips and I can guarantee you at least one thing; you will improve your organic traffic… but no one can tell you just how much until you try.
For a full SEO site audit, including the tips and tactics mentioned in this post, contact us and we'll get the ball rolling on earning you more traffic.