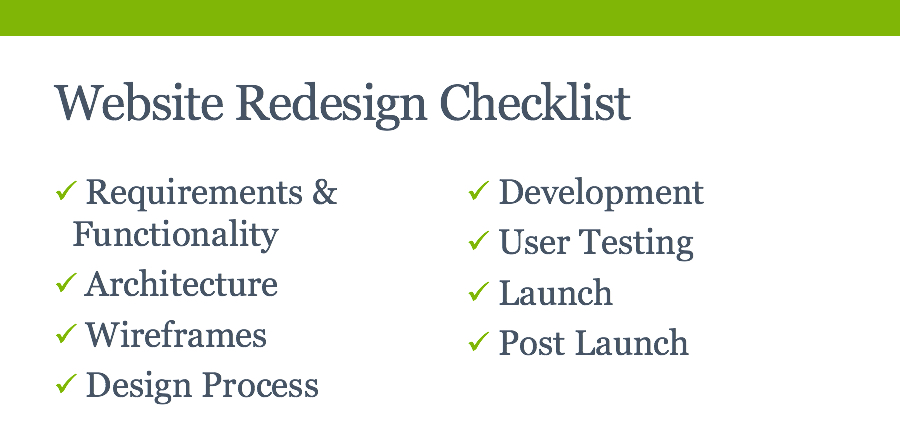 Recently, I was on a prospect call where I learned the company was in the process of launching an e-commerce platform, but the representatives I was talking to had no idea where the site was in terms of the build-out. This whole conversation made me realize that a website redesign checklist could have helped them answer that question.
Over the years, I've seen a lot of websites go through rebuilding, and so many of them started with the design.
That's the wrong place to start the journey. Before the designs can be developed, you must think of what you want your website users to do when they are on your site. The design comes somewhere in the middle of the process, but unfortunately, it's often the first thing business owners think of. What I've learned through managing many website redesign projects is that the steps listed below makes the work flow better, reduces the chances (but doesn't eliminate them) of having to go back to the beginning and having a smoother re-launch that isn't riddled with drama and trauma.
Website Redesign Checklist Major Steps
These are the major process steps that should be milestones in your redesign project timeline:
Requirements & Functionality
Architecture
Wireframes
Design process
Development
User Testing
Launch
Post Launch
I'm going to address each one individually now. I reached out web design/SEO experts and asked them what is their best tip for each section listed above? I've compiled their answers below.
Requirements and Functionality Tip For A Website Redesign
According to Amy Kilvington, the Content Marketing Manager of Blinds Direct Web & Marketing Team "Prior to any website changes, take time to assess the best course of action to appeal to your target market. Your site needs to resonate with users at each step of the journey. Focus on basic functionality, simple navigation and populating each page with relevant content."
These are great tips, and in my opinion, you can't begin the visual design until you know what your audience wants to see and how they will interact with your website content. I'd take this a step further and add that prior to redesigning is a great time to do a content audit to see where there are opportunities to freshen up old content, remove pages or posts that aren't relevant and shouldn't be updated, and see if there are similar content pages that could be consolidated into a large, in-depth post or report.
Architecture as Part of Your Website Redesign Checklist
Giuliano Maciocci, Head of Product at eLife has this to say about site architecture: "For information architecture, Post-its are your friend. The best way I've found to organise a site's navigational structure is to get all relevant stakeholders in a room, throw all your key content types, data and business drivers on the table, and workshop it out. Let clusters of content emerge organically, until you have a good shared sense of what's really important, and how it relates to everything else. Once everyone has said their piece however, it's up to an information architect to make sense of it – locking down a high-level design early can help speed up the detailed work lower down the navigation hierarchy, and give designers and developers a better sense of where their work fits. And if your navigation hierarchy is more than two levels deep, you should really re-examine the overall structure to see if that can be improved."
I agree with Giuliano, but in addition to what he's said, I would also review Google Analytics to help me figure out if there's great content that's too many clicks down the architecture and just needs to see the light of day. Go to Behavior –> Site Content –> All Pages. I'd sort on either Pageviews, or Unique Pageviews from least seen to most seen and see if there are pages or posts that should be moved up in the navigation structure.
The other thing I'd probably do for content that I think is either really evergreen or just too important to leave to chance for ranking and indexing is to do a log analysis using specialized software. This step shows me if the URLs I want to show up high in search results are even being visited by Googlebot. If yes, then try to keep that content as-is, and if not, consider repurposing the content in another area of the website.
Wireframes & Your Website Redesign Checklist
Ian Chapman, Founder and Principal Consultant of Leaf Design gave me a valuable tip about developing wireframes. He said "While we've found the wireframing to be helpful during the web design process, it often depends on the type client. For more tech-savvy clients, low-fidelity wireframes will often suffice. Clients such as software development firms, engineers, and architects are used to such representative drawings and are usually able to extrapolate the designs in their minds into what the finished product may look like.
However, for many other organizations, such designs are too far removed from the final product and they are unable to make the visual leap in their minds. For these types of clients, high-fidelity, interactive wireframes are a better fit. Allowing users to see more detail to the structure, as well as being able to physically click their way through the various paths within the website is often helpful to stakeholders who are not familiar with the web design process."
I couldn't agree more with what Ian says!
Development
Ian Wright, the founder of Merchant Machine offered this tip about website redesign development. According to him, "Make sure that you involve SEO stakeholders in the development process. You want to be especially careful about maintaining successful content and making sure that if there are going to be any URL changes all old pages will redirect properly (one step 301 is best) to the new URLs."
Having been on the receiving end of bad redirects after a launch, I agree with Ian. Documenting URL changes can often help you cut down on the amount time needed to troubleshoot missing 301 redirects, which are critical for maintaining your existing SEO performance after the launch.
Include User Acceptance Testing (UAT) in Your Website Redesign Checklist
Tom Jackson remarked, "Find your target market and put your new website in front of them. Utilize analytics, whether it's something as basic as Google Analytics or more advanced such as heat maps and eye tracking software. This is how you determine whether or not your hypothesis for design and architecture is actually paying dividends. Usually, some form of optimization is always required."
This is almost always true, and is often overlooked in any website redesign launch because of the money and time needed to gather testers and administer functionality testing, but even though you might be disappointed at the results, user testing is meant to fix mistakes before the site goes live. The idea that your new website designs and user experience are only a hypothesis could not be more accurate. You really don't know how the new design will perform until your audience kicks the tires. How the website performs is far more important than how the website looks.
Launch the Website
Margaret Andriassian, a freelancer had this to say about launching a site "Be careful and have an expert do the migration. Take into consideration all that needs to be done. A few things to keep in mind:
Switch ssl if needed
Point name servers
Back everything up
301 redirects & a new site map if needed after redesign"
These are all good points I've seen overlooked in the excitement of launching a new or redesigned site myself. Now that a secure internet is the expectation of human users, and is a direct ranking signal to Google, I'd double down on the switch to SSL. Go check your website, it should reside only on HTTPS.
Launch: The Last Step of Your Website Redesign Checklist
Web developer Ben Bordofsky says "Test, tweak, test, tweak, test, tweak. Most websites aren't static entities, and they shouldn't be. Always be testing new ideas, fixing bugs that arise, and adjusting to hit your site goals."
The work doesn't stop now that you've relaunched. This is certainly true of any website that has to meet conversion goals, even if it's just generating email requests or phone calls. Testing and ongoing optimization should be a part of any digital marketing strategy.
I hope these tips are helpful for you if a website redesign is scheduled this year. Some final thoughts:
We never recommend a redesign just for the sake of design. Many of your site users are NEW to your site and brand… they aren't as aware that the design is stale. Assuming it's not incredibly old.
I want to reiterate that performance is far more important than design.
Contact us if you're considering a redesign and don't know where to start.