How well is your blog doing? It's the center of your content marketing strategy, right? If you're simply "reporting" how much traffic you receive to your blog, you're missing out on some key analysis – How effective is your blog content and what is your user engagement rate?
How to Measure a Blog
Measuring the effectiveness of a blog can include many different tactics from traffic analysis and keyword ranking reports to more data driven metrics, like how much revenue the blog is creating. At Benson SEO we're a data driven company – which isn't to say there's a hard fixed dollar value on absolutely everything we do, but we can get pretty close. Most marketing efforts, including content marketing or blogging can be measured in dollars and cents. At times this measurement is virtual, meaning as a marketer, you must assign a value to actions users take on your site. For example, think of how much one thousand Twitter followers is worth to you in real dollars? If you can arrive at a realistic number, then you can assign a virtual value for each time someone clicks your "follow me on Twitter" button on your blog.
Over the next few paragraphs I'll outline just how this is done at Benson SEO. Keep in mind we're running a WordPress blog and are using Google Analytics. If you aren't familiar with Google Analytics, I'd recommend starting with Web Analytics; An Hour a Day by Avinash Kaushik. Or you can read more about our Google Analytics services.
Within Google Analyitcs you can assign "Goals" to different destination URL's or actions people take on your site. We're currently tracking 8 goals on the blog and main site. We're obviously in the business of providing SEO Consulting, so anytime a visitor requests more information about our services, we track that as a goal in analytics. Makes sense right?
Blog measurement is secondary to producing quality content that your visitors consume and share. With that in mind, if you know what kind of content is shared more often you can cater your content strategy to align with what your readers prefer. Check out this screenshot of our analytics profile for the blog. You can see we're measuring how many times a visitor clicks on one of our social media profiles, how many RSS subscribers we have, how many times our content is shared on various social sites, and also how many users submit our contact form for more information.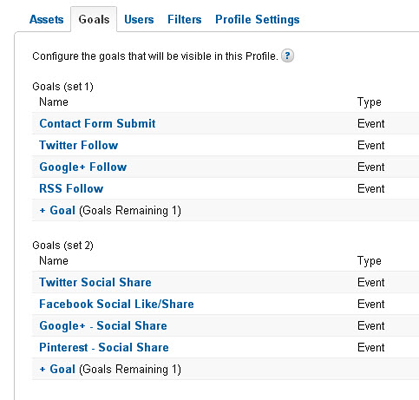 Traditional goal tracking in Google Analytics is fairly simple; you tell Google that if a user arrives at a confirmation page, Google should track that as a goal. For instance, if your 'contact us' form is completed and your visitor arrives at a thank you page, that thank you page URL is the goal URL. By installing a fantastic WordPress plugin by Joost de Valk, you can easily begin using "event tracking" on your blog. A Google Analytics event records "user interaction with website elements". Don't worry, that doesn't mean much to me either – it simply means you can add a few easy tags to links and buttons on your site and track when someone clicks your Facebook link, or shares your blog post on Google+.
With a standard analytics implementation, anytime someone clicks on the Facebook link and leaves your site, that's it – they're gone and counted as an exit. While they still are technically an exit from the site, you have now tracked the event "Clicked on Facebook Follow Button". What can you take away from this event? Well, your blog IS your social media hub and you want people to follow your social profiles – what dollar amount can you 'virtually' assign to this action? $1? $10? if you run a standard e-commerce site and you sell blue widgets for $50, then your Google Analytics goal is obviously $50. Social media measurement is quite different. As an organization you should think a about how much value you place on your social media profile traffic and whatever that comes to per user, that's your goal value. To be clear, it's not the lifelong value of that individual, but a tactic for measure the worth of your blog, so @MrImportantTwitterProfile shouldn't be offended that I think his click-through to @Benson SEO is worth only $2.50.
Here's a look at our Twitter social following goal: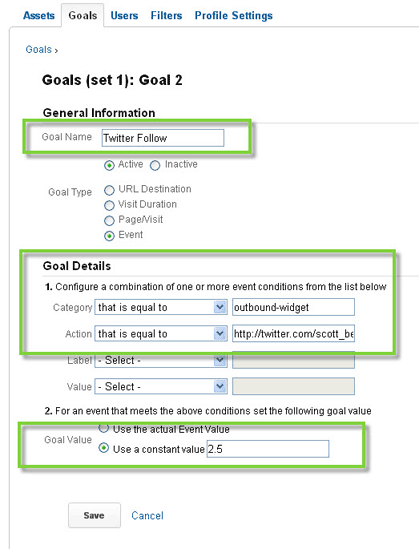 And this will show you the code that's created by the WordPress plugin:

You can see there is an Event Category of "outbound-widget" and an event Action of "twitter.com/scott_benson". These values were automatically created by the plugin. The only task left is creating a Google Analytics goal to track this event, which is seen in the Twitter social follow image above. Oh, and don't forget to insert the virtual dollar value for each of your blog goals. You can also see these actions in your standard Content reports under Events: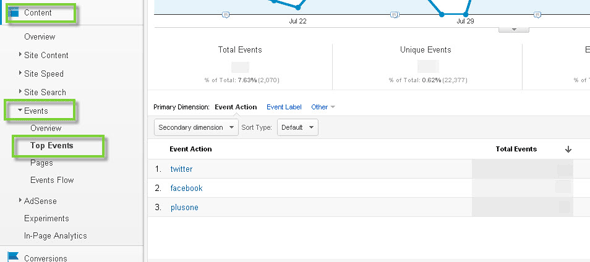 Once your goals are set you can begin the reporting piece and start to analyze your content. Using standard conversion reports you can show 1) how many blog goals you received, 2) what the virtual value was and 3) what blog posts or pages are driving the most interaction over time. This report can serve as the foundation for analyzing your blog content. Which topics drive the most goals? Do posts with video result in more Twitter shares? You can imagine the analysis can be robust, but these social interactions are so important for SEO and for the overall satisfaction of your readers. The content they share will become the content search engines prefer to rank well in the results pages.
As you expand on your reporting and analysis you will open up all sorts of new uses for this type of blog tracking, and it applies to your corporate site as well. For the blog and your content marketing efforts, you can use your social media following and sharing goals to create a user engagement metric.  The more valuable the content you write, the more likely your users are to share that content.  Ever wonder the value (actual or virtual) of a link or review you secured on an external site? By establishing a robust set of goals you can show that traffic from site "abc" resulted in "x #" goal completions and "$500" over a certain timeframe. This kind of Custom Reporting in Google Analytics is a topic for another post.
To wrap things up, here are some images of the sections on this blog we're tracking. If you have any questions – and I know this is a lot to digest – please start a discussion in the comments section or feel free to ask me on Twitter: @Scott_Benson. And yes, I just tracked that click.