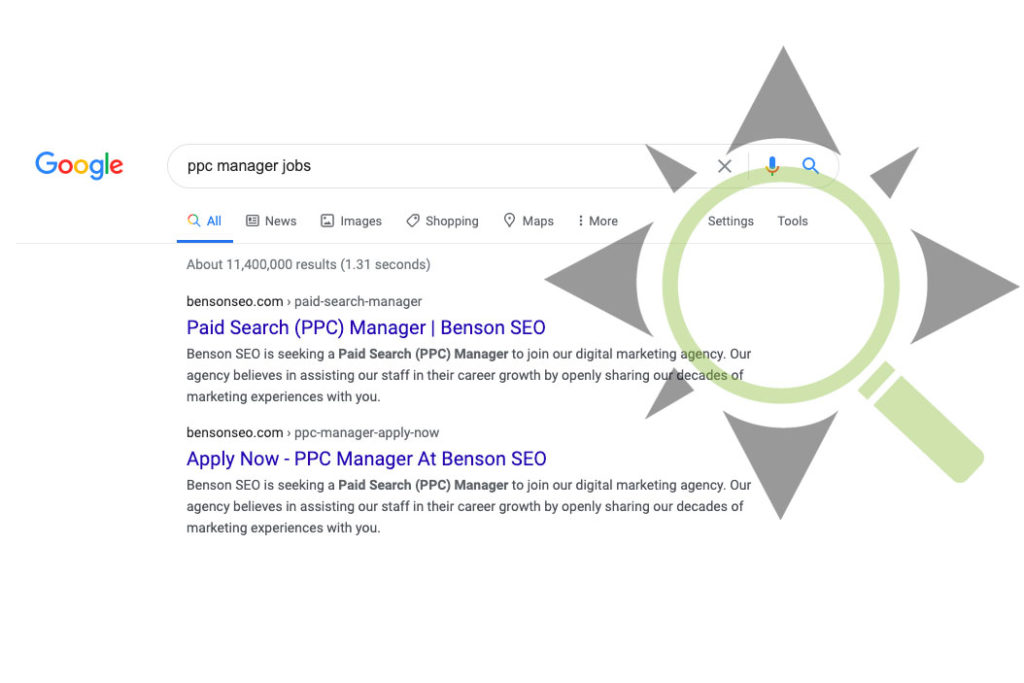 Benson SEO is seeking a Paid Search (PPC) Manager to join our digital marketing agency. The ideal candidate should be familiar with recent and historical paid search marketing trends, platforms, social marketing, and web analytics. The Paid Search (PPC) Manager must be comfortable working remotely, however maintaining consistent communication with senior staff, as well as with our clients. Our agency believes in assisting our staff in their career growth by openly sharing our decades of marketing experiences with you. This is an hourly, part time, 1099 position with the potential to become full time.
Please note: We are posting this position now with the intent of hiring in the next 3-6 months. While we are not actively hiring full-time contractors, we are also open to trial basis part-time projects as we become more familiar with contractors, and for contractors to become familiar with our processes.
Paid Search (PPC) Manager Responsibilities
Day-to-day account management for Benson SEO clients and prospects. Including ongoing proactive optimizations with a focus on campaign ROI/ROAS
Lead client facing calls discussing current campaigns and recommendations on strategy based on performance
Proactive Google and Bing Ads campaign research and strategy: from audience persona strategy to keyword research to ad group structure and launch
Provide oversight, manage, and be able to generate weekly and monthly client reporting for all major metrics, goals tracking, revenue tracking, and other paid search initiatives. Identify problems and deficiency and implement solutions in a timely manner
Landing page strategy and conversion tag QA
Research, manage, launch, and optimize paid social campaigns
Implement paid search tactics based on current best practices as well as new industry trends
Perform paid search, paid social, and analytics audits with attention to detail
Requirements
3+ year experience in management of search, remarketing, and shopping campaigns with proven success
Understanding of all available ad formats and optimization levers
Sustained management of campaigns with over $5K in monthly spend
Strong attention to detail and the ability to effectively multi-task in a deadline driven atmosphere.
Ability to analyze data and provide evidence-based recommendations
Experience with A/B testing
Familiarity with Google Analytics, Tag Manager, Facebook Advertising, LinkedIn Advertising, Twitter Advertising, and Google Drive
Expertise in Google Ads and Bing Ads
Proficiency in Excel
Familiarity with WordPress, SquareSpace, Drupal and other common Content Management Systems (CMS) as well an understanding of HTML and CSS
Google Ads / Bing certification a plus
Sense of ownership and pride in your performance and its impact on company's success
How to Apply
Email advertising@bensonseo.com with your resume and cover letter
Let us know why you're passionate about expanding your advertising and digital marketing skill set.