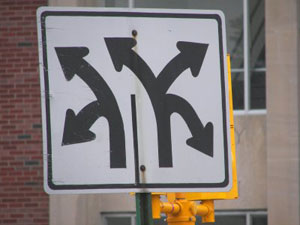 First things first, what the heck is "Conversion Rate Optimization"? Essentially, conversion optimization is the practice of encouraging visitors of a website to take a specific action. Read more at
Wikipedia
. As I've shouted from time to time, the first thing a small business needs to do when
determining how to measure the performance of their website
is to answer the question,
"What is the purpose of this website?"
. That could be to make a sale, have someone complete a contact form or click an email link. All the informative content on the site is geared towards encouraging that action.
The process of conversion optimization shouldn't be confused with spammy tactics like the flashing scrolling text of the mid-90's, huge advertisements or even more modern pop-ups (although pop-ups certainly have their place). Tweaking web content and architecture to encourage the primary action on a website is an art form. At the heart of this practice lies an element of trust. Visitors to your website must trust your brand and the information you're displaying to them. Often sub-consciously a person browsing a website is gaining more and more trust in the information displayed on each page visited.
The SEO community by in large agrees that user metrics play a significant part in the ranking algorithms. Search engines know the click-through-rates on specific queries and the sites associated with those clicks. The article from Moz provides insight into another metric that considers how long a searcher spends on any given site after their initial or subsequent search queries. If people aren't finding the information they're looking for, they often return to Google and modify their search. Eliminating that return to Google is key. Satisfy the hunt for information with great content and clear signals to help your site visitors convert so they don't have to leave your site and modify their search. Conversion rate optimization helps keep visitors engaged on your site, but just long enough for them to gather the information they need and take that action.
Ever since this (likely) shift by the major search engines it's been the SEO's job to not only drive relevant traffic to a website, but to also ensure that traffic is converting and having a positive experience. How frustrating is it to find a site after a Google search only to be left without the answer you need? Think of it like arriving at a restaurant hungry. You're in search of food but there's no one there to server you. The restaurant's primary goal is to sell food. A websites primary goal is to convert visitors into customers.
How to get started with conversion optimization (CRO)
There are plenty of CRO software's available but for many small and medium sized businesses, the budget just isn't there, and that's OK. Google Analytics even provides a free option called Content Experiments. Check it out it's worth a try. The biggest tips I can provide all center around using clear language and graphics to funnel visitors into the pages that contain your forms, email addresses or products – whatever the intended action.
Take a look at your homepage. Is there one clear call-to-action? Have you spelled out exactly what you want your visitors to do when they arrive? It's important to be clear about what services you offer and to point out what makes your company unique.
Keep in mind that the majority of your new traffic is probably not coming in through your homepage – or at least it shouldn't be only arriving at your homepage. Content marketing is essential to creating new onramps for people find your company. Let's assume you've created awesome content and people are finding your company through organic searches. Try marrying up your content with the action you'd like them to take. If someone just read your entire blog post, they're invested (beginning stage of trusting your brand) in that information. Encourage them to learn more about your company, your products, or your amazing services.
Start with reviewing your homepage and then your interior content pages or blog posts. Make sure there's a clear action you want your visitors to take. In a future post we can cover more advanced topics like A/B or multivariate testing. Heck, you can even see conversion gains from simple things like changing the color of buttons on your site, but there are limits to the effectiveness depending on traffic volume.
Over time visitors will begin taking the actions you want them to because you've outlined their user experience before they ever arrived at your site. That positive experience leads to wins in social media (they'll Tweet your content, or share it on Facebook), online reviews (you don't have a presence on Yelp yet?), and of course increased sales. Your search engine optimization efforts will begin to pay off in measureable ways as well. That's no promise, but it's absolutely a tactic I'd recommend. It's also something I've seen work time and again.