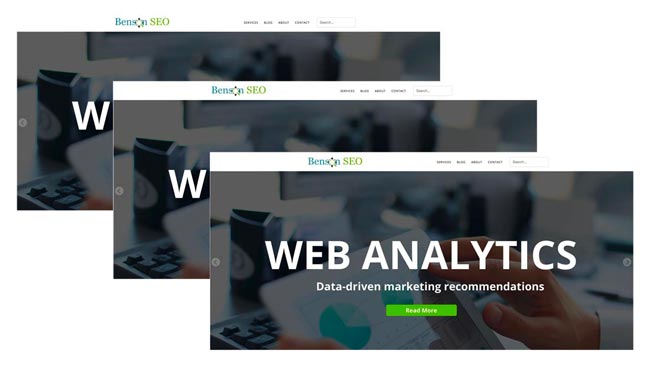 A few months back we had the privilege of working with one of the nation's top veterans support nonprofits. We were brought in through a partner to take a look at their SEO, but in doing so, immediately noticed some problems with their web analytics – their Google Analytics implementation was not tracking their visitors and their actions correctly. Part of our SEO audit process is to also review a website's analytics implementation. Our reasoning for insisting on auditing the analytics is simple; you can't improve what you can't measure.
This is a website that exists primarily to collect donations to support vets and to sign up new memberships. Measuring how people find the website and which marketing channels are driving those conversions is critical.
How is it that a DECREASE in Pageviews by 60% could be a good thing? Let's dig in…
Background and Recommendations for Google Analytics and Tag Manager:
Not all web analytics systems are plug-n-play, even Google Analytics, so watch your implementation, and if you install yourself (out-of-the-box), then hire someone to test it.
You own your data. Yes, the agencies you work with do need unrestricted access, but you need to know who's in there and what they're doing.
These tools now have change history reports. Learn to use them.
Yes, you should be running Google Analytics, and all marketing tracking scripts through Google Tag Manager. Here's a good visual framework to follow for implementation: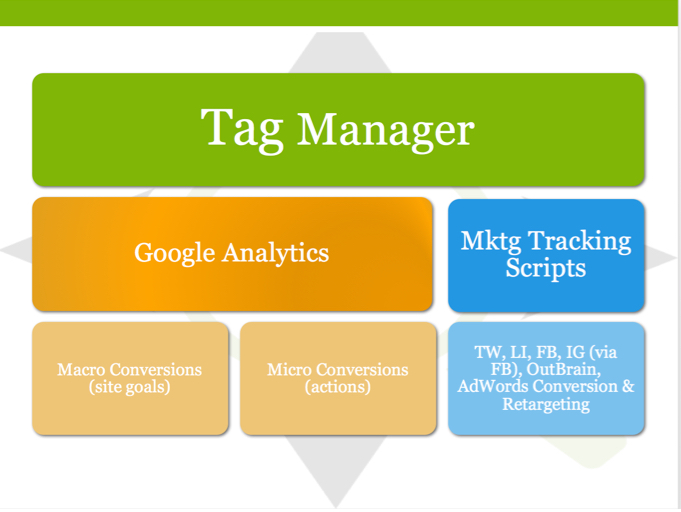 Problem: Bounce Rate Red Flag
One of the first things we noticed when viewing some marketing reporting the organization provided, and jumping into their analytics, was an unbelievably low bounce rate. Now, I should note, I probably care less about bounce rate than most, depending on the type of page I'm reviewing, and the intent of the page, so don't run screaming for the hills about bounce rate just yet. The problem was really with just how low the bounce rate was that we were seeing. In 2017 and 2018 the site was averaging somewhere around 15% bounce across all page types. Congrats, that's either the stickiest site I've ever seen, or it's just dead wrong. Well, we knew it was wrong without even finding the source of the problem.
We had to go back to 2015 to find a more normal looking bounce rate, which happened to be around 60% and is quite good. Obviously, we were dealing with a problem that had been around a while and likely longer than a lot of our contacts at the organization.

Problem: Triple Counting Pageviews
Once we saw the bounce rate issues, we had to find what was causing it to be so low. There's a few known issues to check, and luckily it was one of the first tests we ran, and one of the easier to diagnose once you find it. By visiting their site and overriding the traffic source values with Google UTM parameters, we could see in the Real-Time reports in Google Analytics, that on nearly every entrance to the website — no matter the landing page – each of those "hits" were counting 3 times.

When Does Bounce Rate Matter?
I mentioned earlier my dislike for bounce rate as a metric for success. As an example, if you run a news-oriented site, or a blog, those types of pages historically have a very high bounce rate, and many people incorrectly assume that's all bad. It's not. Understanding how Google calculates bounce rate is critical in understanding when it is and isn't important. If a customer of yours searches for a topic you've written about, and finds it on Google.com and clicks, then reads the entire blog post for 5 minutes, consumes the information they need and is fully satisfied by that experience, but they leave your site without clicking another link, then that visit is counted as a bounce by default. That also happens to be a very common user experience with blog posts, as the user finds the answer to the question they entered in Google.
In this case, the way the Google Analytics scripts were implemented was causing additional problems. At some point in those 3 pageviews, the user's traffic source was being dropped, and some of the user visits were being attributed to "Direct to site", as if they had typed in the domain name directly into the browser and visited directly.
The biggest issue here is in conversion attribution. The organization relies heavily on a robust email marketing program, and on social media traffic. As those marketing channels sent visitors to the site to donate or sign up their membership, and the users actually did take those actions, unknown numbers of those conversions were incorrectly attributed to Direct to site traffic. This results in the appearance of underperforming marketing campaigns, and an artificial attribution to a high brand performance. Direct site traffic is often assumed to mean the organization has a strong brand recognition, resulting in users simply typing the domain name into a browser.
Where should the CMO throw marketing dollars if the channels that cost money appear to be performing poorly?
Why is Google Analytics Tracking Multiple Pageviews?
Why was all this happening? The site was running two Google Tag Manager containers, and through those, running a combined 3 Google Analytics tracking scripts. Each GTM container was running their Universal Analytics scripts, which up until very recently was the most up-to-date tracking method, but additionally one of the scripts was also running the legacy GA.js Classic script. While Google claims you can run multiple Universal scripts, you can't run the old and the new together, and likely can only run multiple if they're actually different accounts, so each pageview is sent to both tracking accounts. I highly recommend the Tag Assistant Chrome plugin by Google, which is one of the tools we used to diagnose the problems.
Solution:
In the end, the solution to this client's analytics issues was simple. After some testing, we were able to work with the client to migrate the two GTM containers into one, shut down the Classic GA script, and pause the unnecessary second Universal Analytics script. We migrated all other marketing tracking scripts to the one GTM container, and worked on some of the rules for when those fire. After those fixes the bounce rate normalized to near 60%, which is actually quite good for this type of website, and those seemingly underperforming marketing channels started being attributed to revenue the way they should have been all along. The impact really opened some eyes internally, and we were really pleased with that result. Also as a result of the work to fix their tracking issues, the overall pageview numbers came way down. What was once a "soft" reporting success metric (whether correct or not), was now going to be ignored in favor of better conversion attribution.
Additionally we proposed a new structure for their Google Analytics reporting profiles. Their domain runs several sub-domains for their various marketing and eCommerce efforts. These were all reporting under the default view, and they didn't have proper backup profiles. We first recommended utilizing a "Production", "Testing", and an "Unfiltered" view to make sure our data in the Production view is clean. The Unfiltered view is a data back-up and a best practice for Google Analytics. To properly measure all those sub-domains we recommended utilizing hostname and page path overrides in Google Analytics filters to see each individual site by itself, as well as roll-up reporting views that showed all the properties together, but cleanly showing the sub-domain name in the reports. Creating additional views as outlined below allows for different members of your organization to view only the data they need. For example, if I only work in HR and Recruiting, I might only be interested in what happens on a "jobs.client.org" web property. I don't care what the marketing team is doing on the "www" site. You can create these departmental views, and have the roll-ups for a broader look at your entire organization.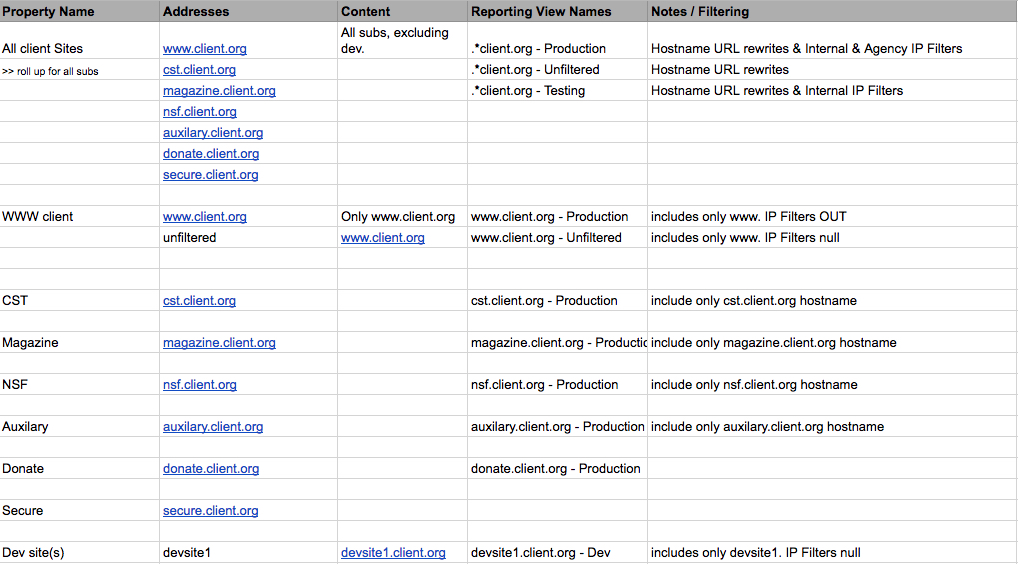 Google Analytics is a fantastic resource, it's free (with paid versions), and it can be incredibly easy to set up a basic implementation. It is also very easy to get that implementation wrong. Be sure to know what your digital marketing agency, or web development company is doing when they set you up — clean data is imperative to good marketing.
If you'd like an audit of your analytics or SEO performance, contact the best SEO agency in Washington, DC.