First the disclaimer: the tips listed below are OK at best – I still recommend using a paid SEO software like Moz, Raven Tools or BrightEdge.
Google Webmaster Tools is a free resource for site owners to monitor the health of their site and be alerted to any issues or penalties. Google being Google though, they aren't keen on giving you all the information you need for SEO. They do give you just enough to show the progress of your search marketing and branding efforts as well as a few reports to help you identify areas for improvement. Let's get to the list:
(Note, screenshots taken from various client reports but names & keywords redacted/modified for privacy.)
Search Queries Report
Primarily this is a pretty chart you can show. So many executives love up-and-to-the-right charts, and this is one of them. It has some practical use though as you can show management the search impression data – the number of times your site appears on Google results pages – for your branded and non-branded search terms. You are getting real-ish keyword data in the wake of 100% (not provided). I say "real-ish" because there's some debate out there regarding the accuracy of the data. Hey, it's there, and it's something you can use. Obvious SEO research and reporting nuggets can be found in the clicks and click-through rates. I like the click-through rates, especially when you use the "Filters" option and enter a phrase like "blue widgets" and see all the long-tail terms resulting from your content marketing like "who to use blue widgets for SEO wins", etc. Using the filters this way gives you an aggregated report that more accurately relates to SEO and how visitors find your site. Navigate to Search Traffic > Search Queries to find: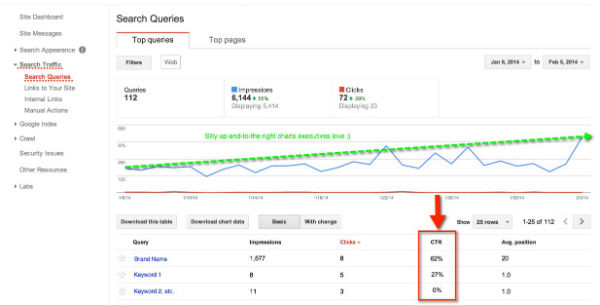 Also, view the "Top Pages" tab to monitor click-through rates for your site URLs. Lot's to learn there too.
HTML Improvements – Google is telling you what to fix!
Thanks Google, you're too kind! Site owner, here's your list of issues to fix. The meta descriptions aren't a huge problem, but the page Titles are important. I still believe page Titles to be a major on-page relevancy signal, and each page on your site needs a unique and targeted Title. Also, if you see a large number of duplicated Titles, there's a good chance you have a duplicate content issue. Your CMS is likely publishing the same page on multiple URLs. Navigate to Search Appearance > HTML Improvements to find: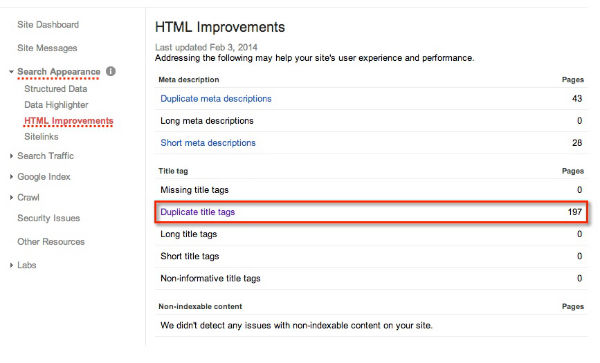 Links to Your Site
As you grow your content marketing efforts by creating resources that are useful to your target audience, you're going to naturally earn links, even without any link building efforts. I encourage your to become a visible, public and transparent brand, a voice of authority in your industry. I also encourage you to monitor and report on your link profile. Links remain important for SEO. The Google Webmaster Tools links report isn't comprehensive, I'd say it's a snapshot of your link profile, but like the Search Queries report, it's there and you can make use of the data. Monitor for growth moving forward as well as keeping an eye on the past. You may have run an SEO campaign in 2005 that involved spammy link building. This report is a starting point to cleaning up those links. If they're bad enough, you can begin a link removal process. Export the data to Excel for a little more practical analysis. I do recommend supplementing the GWMTs Link report with a paid service like Moz's Open Site Explorer or Ahrefs or something else that will provide a more complete look at your link profile. In Webmaster tools navigate to Search Traffic > Links to Your Site to see: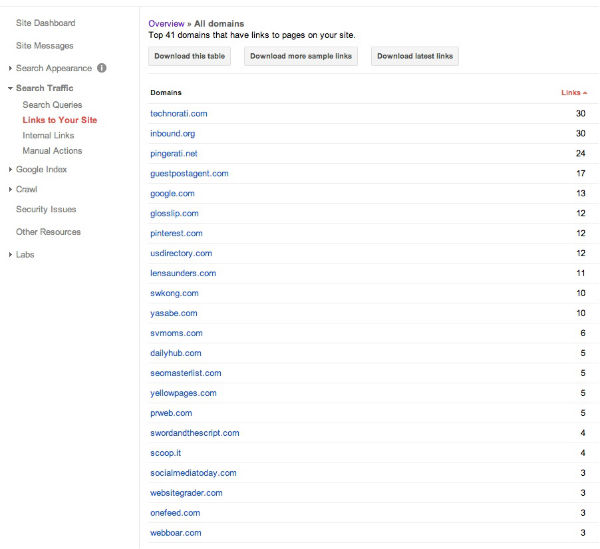 Sitemaps
An XML sitemap is a file listing all the pages on your website. Submitting these to Google will help (a little) them find, crawl and index your entire site content. Using the XML sitemap to identify indexation problems is really the best use of this report in Webmaster Tools. Here you can submit multiple sitemaps for different sections of your site or even different content types. Google will also flag potential issues for your review. Navigate to the Crawl > Sitemaps to find reports like: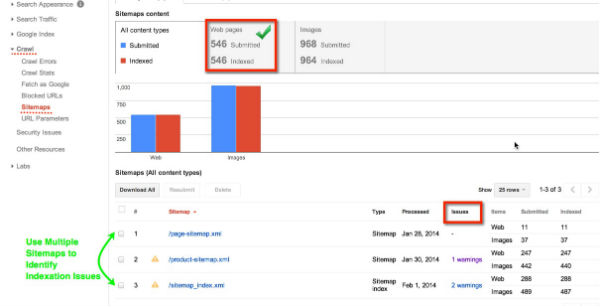 Bonus Coolest Thing = Structured Data Markup Helper
In the Other Resources section you'll find a cool new-ish tool from Google Webmaster Tools that helps you add Structured data markup to your site. This is great for local businesses to add tags to addresses, emails, hours of operation or anything you can feed Google to display directly in their search results. If you can enhance how your site appears in the search engine results pages (SERPs) you can earn a higher click-through rate, which of course you'll see in your Search Queries report above. Only tag the items that are accurate and don't spam the snippets, as Google recently started cracking down on those abusing the tactic.
Here's a screen shot showing how you highlight the information on a site – one of my favorite local restaurants – and then select the local data items, then Google gives you the new html with the structured data markup. If you're running a CMS you might have to cut-and-paste the tags into your site templates, but you can make it work pretty easily.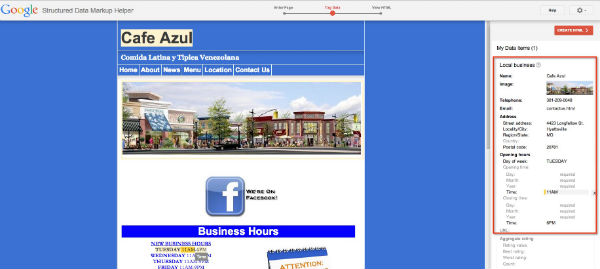 Feel free to leave a comment with any questions or contact us to learn more about these SEO reporting tactics.