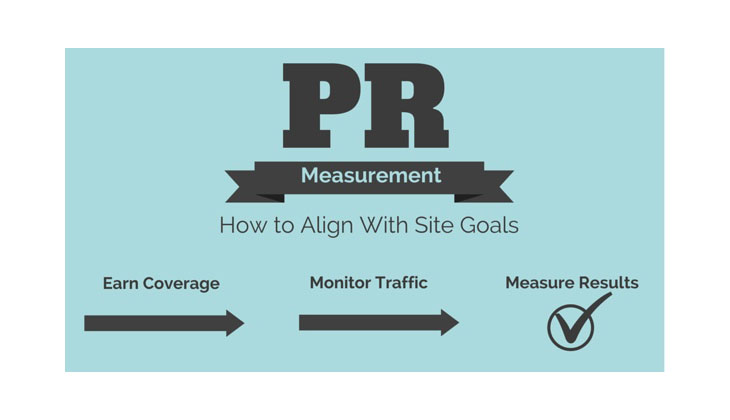 I recently asked PR professionals for input on how they measure public relations efforts. I wanted to attempt to recreate some of their PR measurement dashboards and share them so they can be added to any Google Analytics account. The respondents provided great insight into how and why they use Google Analytics dashboards to measure their PR efforts. The data displayed in each screen shot has been modified or redacted to maintain account privacy. Some modification may be necessary to align with your own Google Analytics implementation. Let's get to it…
Start with Website Goals; Measure What Matters
Samantha Crowell, http://hourlynerd.com/
Samantha works in a start up environment where proving the return on PR efforts and spend is crucial. While she pulls from nearly 20 Google Analytics reports, she focuses on showing the number of "sign ups and payments" resulting from referral traffic from placements her in-house or agency team have earned.
For Samantha: "…if our PR agency has gotten us a piece on XYZblog and I see that this has referred us only 5 sessions and 0 signups, I may question how well their approach is working. If this were to drive a ton of traffic and signups, I would trust that that PR agency is aligned with our goals and that they're working in our best interest."
All websites have goals, or specific actions you want users to take. All business owners and marketers should answer the question, what is the purpose of this website, and begin tracking this through analytics. I love the focus on business goals from Samantha. I imagine a dashboard showing all referral traffic, or perhaps a segmented report with only the sites with known PR wins from her team. As long as Hourlynerd.com is tracking ecommerce tracking, or has assigned a dollar value to their lead generation goals, it's easy to put a real dollar figure on public relations efforts. Here's a sample dashboard you can add to your Google Analytics profile, though you'll need to edit the Source values Regular Expression from "site1.com|site2.com|etc" to match the sites where you've earned a link and where you're receiving traffic:
https://www.google.com/analytics/web/template?uid=JK1vgkniTg-5M-es3Cpivg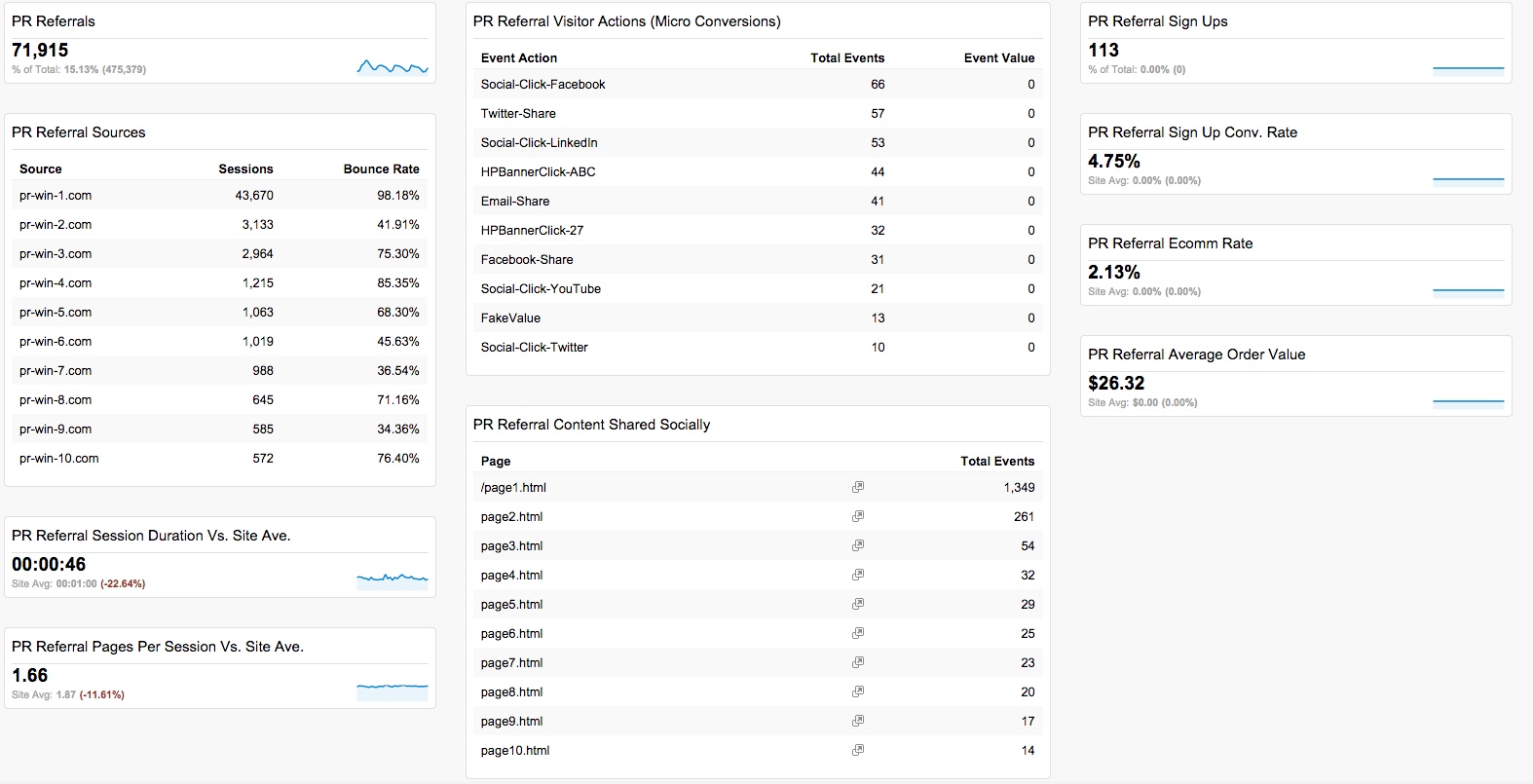 On Site Metrics; How Does PR Traffic Behave?
Jill Van Nostran, http://jillvancommunications.com/
In addition to referral traffic data – which PR efforts are working — Jill Van Nostran Communications is interested in on site metrics, giving a holistic view to the visitors' experience.
Jill says, "I create my own dashboards, depending on what each client's goals are. But for the most part, each report answers the following questions:
Where do they go once they're on the site? (this helps show if again, PR efforts are effective in getting them to land on the right pages AND show
if our digital marketing efforts are effective in funneling through the site)
Where do they drop off? (this helps show if pages are ineffective)
What are the top content pages (this shows whether or not our content marketing efforts are effective — are they interested in other blog posts?
which ones are most effective for our audience?)"
Jill also stressed the importance of Geographic data to make sure you're attracting the right audience for yours or your client's business. Google Analytics now has a Demographics and Interests reports section showing Age, Gender, Affinity Categories, Market Categories. If you haven't seen them, it's worth a read.
Here's what that on site actions dashboard might look like, though I'd probably segment by known PR win referral sources, rather than just all referral traffic:
https://www.google.com/analytics/web/template?uid=21_6929MRjePd4gx-v2ZHg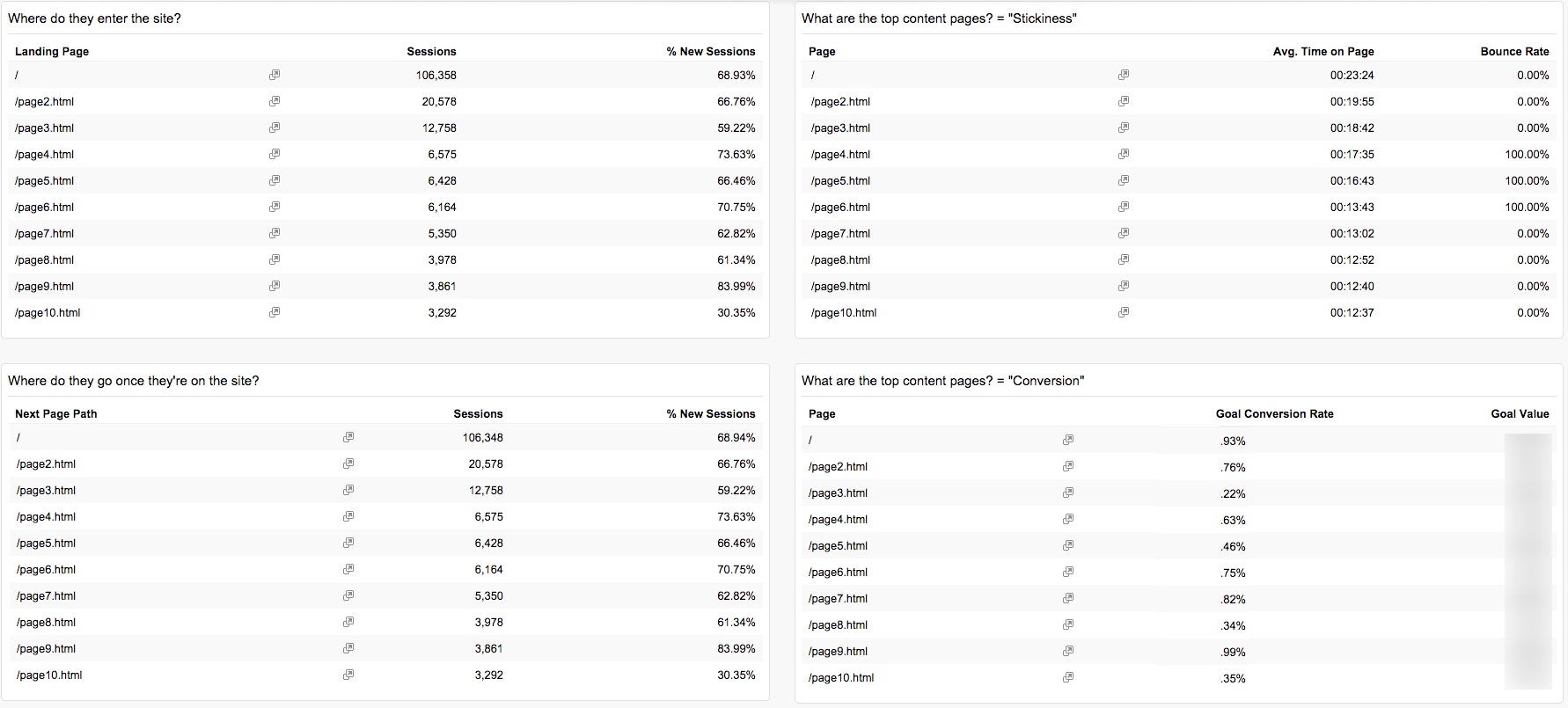 How to Measure Press Releases
Bristol Whitcher, http://www.bigfishmarket.com
Bristol and BIGfish Communications like to hone in on big impact media exposure, but as she says, "rather than focusing solely on outlets with high UVMs (Unique Visitors per Month), we rely on Google Analytics, specifically the Referral Traffic, to see which outlets are driving visitors to our clients' sites. Often times, a site with a lower UVM will have a more engaged audience, and thus drive more traffic. This information enables us to develop more strategic outreach plans and drive meaningful traffic for our clients."
Bristol's focus reminds me of a phrase I picked up in a former life, "placements are good, pageviews are better, but sales are most important". Her campaigns need to drive results, which we've addressed in the previous dashboards. I'd be interested to know if press releases ever face the same scrutiny as earned media placements? I doubt it and I understand company news is a different beast. However, I've always been a fan of separating press release referrals from the rest of a site's referral traffic. To do so, PR pro's need to be tagging links inside press releases with Google campaign parameters, or by creating a custom segment including the sites you where you are distributing the news release. Here's a link to a custom segment you can add to your analytics account, which includes a dozen or so of the top news distribution sites (this is not an endorsement);
https://www.google.com/analytics/web/template?uid=ne7eNir6ToO18yzUOuuTvg
A simple press release tracking URL you can use is to add this query string to the end of any link you place in the release; ?utm_source=prnewswire.com&utm_medium=pr&utm_campaign=InsertCampaignNameHere. The Source value should be changed to whichever newswire you've selected, the medium should remain "pr" or however you refer to your efforts, and the campaign value should be specific to the content of the release or "campaign" you're running.
While you likely won't see to many leads or sales from press releases, you will have to report on the performance of your company news. Here's a press release traffic dashboard:
https://www.google.com/analytics/web/template?uid=mOX2PLGsSK24hQRFSTejVg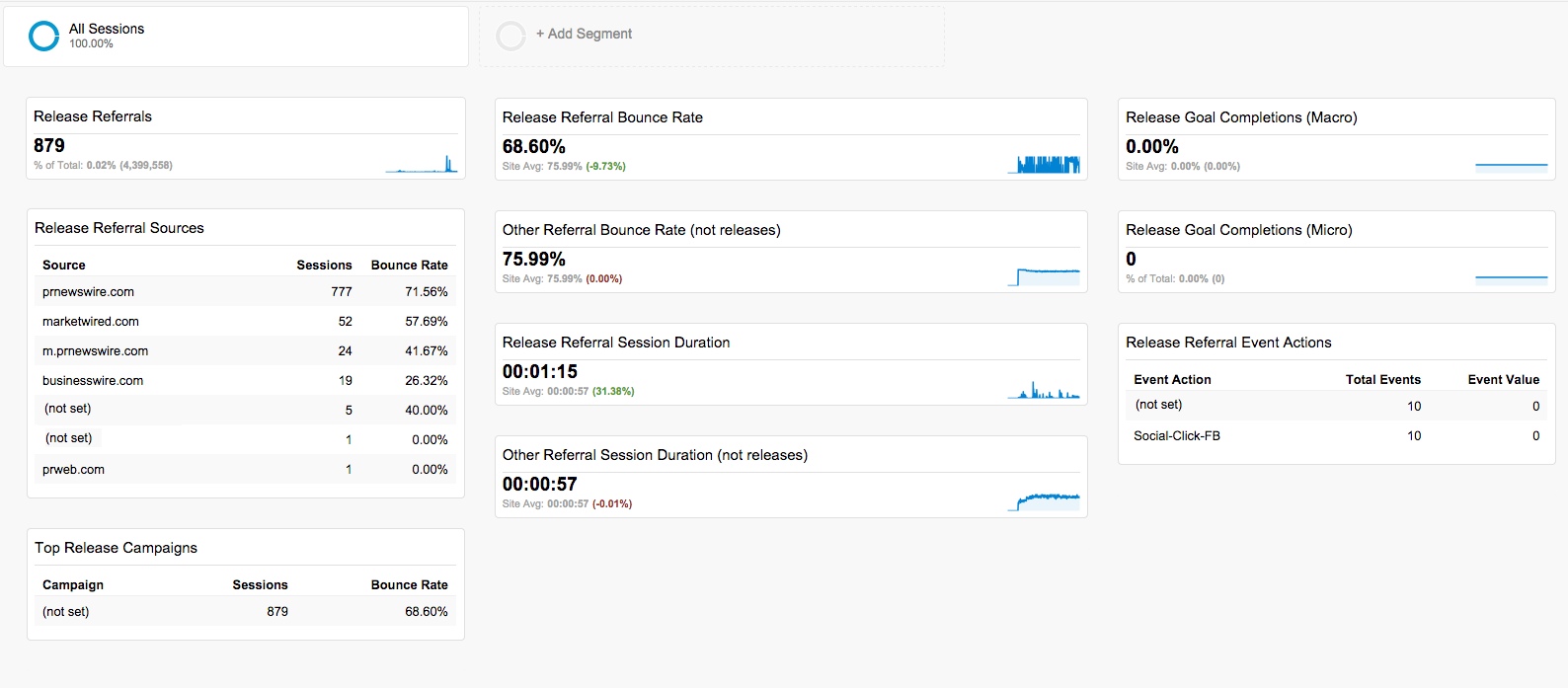 As you review the dashboards keep in mind these can easily be edited to match your site goals. Ask your web analyst to match the "Macro" goals to whichever is your primary conversion goal on the site, and the "Micro" goals should be used for things like social media shares, social follow clicks, or RSS feed sign ups. Those actions can be tracked with Google Analytics event tracking, and created into goals.
What else are you measuring?