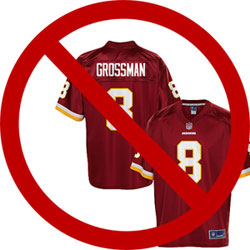 (Note: I'm going to make every effort possible to keep this post from turning into a Rex Grossman bashing. That would be too easy.)
Google Analytics is a powerful tool when set up correctly. The data provided within the interface can help site owners learn invaluable lessons about their customers. These lessons include simple information like demographics – where visitors are located, what browser they use and if they are new to your site or are returning. Google Analytics can tell a company if site visitors are coming from search engines, or other sites that link to theirs, or even from social media. It's up to the company to analyze this information to turn the data into actionable tasks to improve their sites. All of this information helps a company learn more about their customers in a general sense. In this post, we're going to focus on two tactics to help you learn about your customers by using Google Analytics reports and data. I promise the football image will make perfect sense after reading through the post.
Use On-Site Search Data to Learn What Your Customers Want
The majority of content on this blog pertains to how people use search engines to find information spread across the internet, but what happens when a searcher arrives at a site? Are they no longer in search of information? Not likely. Sometimes they don't find what they're looking for quickly and they decide to perform another search on the site they're reading – everyone has done this at some point in their online lives. Luckily Google Analytics can track the keywords your customers search for on your site. This site has a search bar in the upper right-hand side, for example. The terms entered into on-site search fields should be thought of as a direct line of communication between a potential customer and the owner of the business. Customers are literally giving site owners direct cues as to what they want to buy, or what information they are seeking. Conceptualizing this idea can be difficult, so we turn back to the Rex Grossman image at the top of the page…
Let's say you own a web site that sells authentic NFL football jerseys, and your target market includes NFL fans in the Washington, DC metro area. For the sake of argument let's assume as the owner of the company you decided not to carry Robert Griffin III (quarterback for the Washington Redskins) jerseys yet because you wanted to see how well he performed in his rookie season, and you weren't convinced the fans would embrace him until he proved himself (that was a huge under sight on your part ). At the time you needed to purchase inventory, you were sure Rex Grossman would be the starting quarterback – man were you off base – but for companies, they rightfully need to see demand before committing to a new product line. So, let's turn to the data.
In Google Analytics, you can navigate to the "Content" reports tab and then select the "Site Search" section and then further drill-down into the "Search Terms" report. Here it is, you're presented with the exact words your site visitors are using to look for information or products. In this example you can see more than 4,000 searches for the phrase "RG3 jersey". What does that mean? Simply put, you missed out on a huge opportunity to sell a product your customers really wanted. Assuming a jersey is about $100 and you had 4,000 searches for that jersey, as the owner of the business you can know you missed out on $400,000 in potential sales. Here's how the lost sales looks in Google Analytics: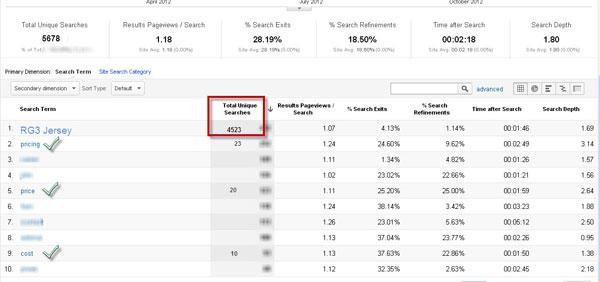 (Some data taken from existing client, and other information if fabricated.)
While some of the information in the image above is fabricated, some of it is real. As you can see, one of our client sites has search terms related to pricing – and you can be sure we'll recommend making that page more prominent and easier to find on their site. The lesson here is simple: give the visitor the information they want with as little effort as possible.
There's more that can be learned from on-site search. Google Analytics also lets you know what page a search happens from. Site visitors could be searching from the homepage, or from deeper pages like… Rex Grossman's jersey page. Die-hard Redskins fans are desperately trying to find a jersey for their beloved quarterback and all they can find is Grossman and they're not happy about it so they perform a search from this page. We'll assume in this example they're looking for RG3, but you can also see that exact report by choosing "Refined Keyword" as a Secondary dimension in the report. Since this is a hypothetical situation, I can't show it exactly, but it looks something like this:

Bonus tip:
See the "Shipping Information" page has a higher exit rate. This means people are searching from this page and not finding what they want so they leave your site. Maybe the shipping rate to a zip code isn't readily available, or your rates are just too high. Whatever the case, this is a clear sign you should review the usability of that page on your site.
Site search analysis isn't limited to identifying missing products; it can also help identify site architecture of navigation problems, as well as so much more. Start exploring your reports to find out what you can learn.
Google Analytics will tell you what content topics your customers like most
Inside the "Site Content" reports lives some of the most basic information in Google Analytics, but it can also be very powerful when used to its potential. These reports show site owners the most visited pages on their site – again basic information, but the analysis you can perform here will give you great insight into what your customers think. All business owners suffer from assuming too much – it's a fact, we are all guilty – we assume we know what our customer base wants. Using data to back-up or disprove these assumptions is not only smart marketing, it's really easy.
I've used an ecommerce example in the NFL jerseys, but let's also assume a company is practicing content marketing as a traffic driving strategy. Every company should be blogging. When done correctly, blogging casts a wider net of potential places people can find you site online. Over time it will increase the authority of your entire site, increasing your search engine traffic. What happens after people arrive at your site is critical to learning what your customers want. As I pointed out in my post about measuring a blog, it's not that hard to learn what content resonates with your audience. Setting Google Analytics to track social shares (Tweets, Facebook likes and Shares, etc) can give you first-hand knowledge about what you should be writing on your blog. The content themes that receive more social shares should be repeated. Looking at the themes of highly shared posts can tell you if your audience likes "how to" posts (how to do xyz) or if they like lists of tips (6 tips hosting a great party). Really the examples are endless. Content marketing is an ongoing learning process. Use analytics to your advantage and you will always be step ahead of your customer base. Take a look at the post linked above for more information on analyzing your content marketing performance.
A great free tool to view the social shares of any page is SharedCount. How can you use this? Take a few pages from your site that have high traffic volume and plug them in to see what is earning the most social shares. Then determine the content them or type of post (tips, how to, etc) and try to replicate that success with a similarly structured content piece.
Start learning more about your customers using Google Analytics by answering:
What are your customers searching for on your site?
What information are they finding? And what are they NOT finding?
Is your Google Analytics account set up to track on-site search?
Are you writing for yourself (company jargon) or are you writing to answer your customers' needs?
As always, I encourage you to contact us for an evaluation of your content marketing efforts and your Google Analytics implementation. If you think you're missing out on sales opportunities, we'd be glad to help.